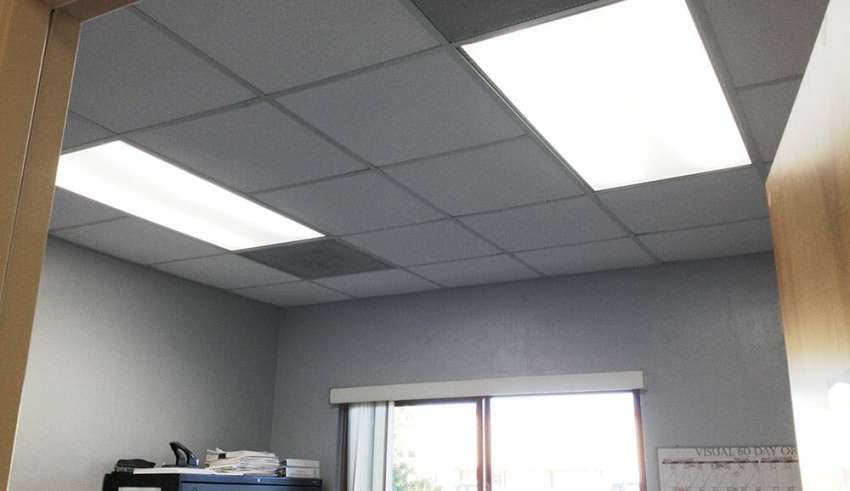 Armstrong ceilings have been around for more than 150 years, and they are one of the greatest successes in the building materials industry. It is one of the top brands in the world for mineral fibre suspended ceiling systems. This company was founded in 1860 in the US, but it opened the first plant in the UK in 1996. The HQ is based at Team Valley, Gateshead, and they have regional offices outside of London.
Types of Armstrong Ceiling Tiles
Armstrong ceiling tiles come in a range of styles, including the following:
Armstrong Bioguard
Armstrong Bioguard has antimicrobial performance, and it is ideal for suspended ceilings in the healthcare industry. It is easy to clean, and it has inbuilt resistance to disinfectants. It also comes in an acoustic version if you need soundproofing.
Armstrong Dune
This is the most popular ceiling tile in the UK, and it is a bestseller. These tiles are modern with a sand-textured face, and they offer a balance between cost and performance. The tiles are lightly textures, and they have a surface that is microperforated. They offer some sound attenuation performance and good sound absorbance. In addition, they have a large selection of sizes, edges, colours, and performance upgrades, so you can find what you are looking for.
Armstrong Fine Fissured
This is another popular ceiling tile, and they are reasonably priced. It is a great entry-level choice for office, schools, and retail shops. The surface is non-directional and is cost-effective. It also gives you Class C sound absorption.
Armstrong Tatra
Another popular ceiling tile is this Armstrong Tatra. It has been around for 30 years, and it performs reasonably well. It also offers great value, so people use it for schools, offices, and retail units.
Armstrong Ultima
This tile comes in a bright white colour, and it is finely textured. It reflects light well, and it works well when you need bright spaces.
Armstrong Perla
These ceiling tiles offer light reflectance and have excellent acoustic properties. They have a bright white finish, so they work well in high-end retail spaces or car showrooms.
Armstrong Ceilings Has a Commitment to the Environment
Armstrong ceilings has made a commitment to a sustainable future, so they make their tiles as safe, sustainable products. They choose raw materials responsibly, and they are committed to performance features that save energy. They do whatever they can to reduce the amount of waste in landfills through ceiling recycling initiatives. You can feel positive about using ceiling tiles from Armstrong Ceilings.